On Sunday, June 12, SHM Classic Motors will present the inaugural Alameda Point Concours d' Elegance.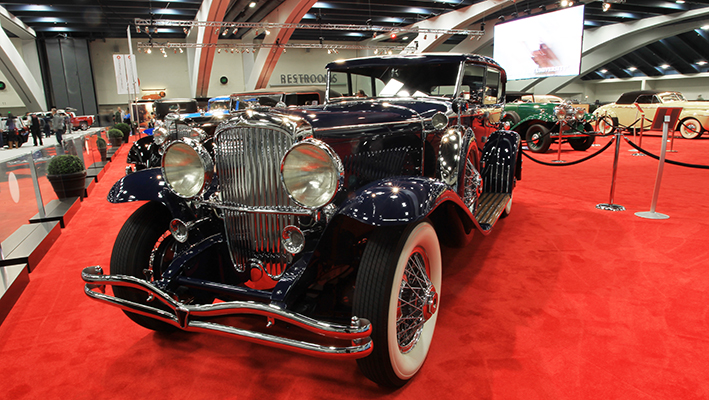 The Academy of Art, San Francisco is bringing two magnificent automobiles to the Alameda Point Concours d' Elegance: A 1929 Duesenberg Sedan (above) and a 1965 Ferrari 265GTB (below). Photo courtesy of Academy of Art SF
By BC Staff
Published: June, 2016
On Sunday, June 12, SHM Classic Motors will present the inaugural Alameda Point Concours d' Elegance. This classic car show will feature Ferrari and Corvette as the marque classes for the event. The new venue for this elegant automotive experience is located on the lawns of the Parade Grounds of Alameda Point at the former location of the Alameda Naval Air Station, close to where the famous aircraft carrier USS Hornet is docked.
Along with the great automobiles on display there will be historical exhibits, Navy Sea Cadets, special presentations and fabulous food. There will also be all of the trappings expected at a Concours d'Elegance: show cars, awards presentations and a special "Patron's Pavilion" serving champagne breakfast and catered lunch from Pacific Fine Food. Food trucks for spectators will include Scolari's, Capelo's BBQ, Country Grill, Sam's Chowder and FK Frozen Custard.
Some of the magnificent auto-mobiles on display will be a Corvette Grand Sport from Bowman Motors and John Carey's award-winning 1929 Rolls-Royce, Shooting Break. The Academy of Art is bringing two cars: a 1965 Ferrari 265GTB and a 1929 Duesenberg Sedan. Paul Chapot, an Alameda resident, is bringing his 1915 Saxon B2 Roadster. Wrightspeed, located right on Alameda Point, is bringing its spectacular X1 Concept car. Also coming to the show is an Amphi-Car (a car and a water vehicle).
For the show cars, there will be SCCA (Sports Car Club of America) judging and a Club Field for those that want to bring their cars for display and not have them judged. There will be more than 180 classic cars that will be judged, and many more on display as field entries. All judged classes will be judged and scored by SCCA judges, except for marque classes and some special awards. Entries will be judged on interior, exterior, engine and chassis based on authenticity, working order, general appearance, care and preparation. Only stock unmodified cars are accepted for judging.
The cast of honorary judges for the event include: Alameda Mayor Trish Spencer and Alameda Police Chief Paul Rolleri; one of the creators of the Mazda Miata and RX-7; Tom Matano from the Academy of Art; and Gil Gross, talk show host from KGO 910. Plus, Hagerty Classic Car Insurance is bringing its Hagerty youth judging program for kids ages 8 to 12 to the Concours. The children will have a chance to view the show cars closely and judge them, using a simple form that is provided.
The USS Hornet will be bringing its F-8 Crusader Cockpit for viewing and Alameda Point's premier auction house, Michaan's Auctions, will be open during the show for those who would like to do a little shopping. The Navy Sea Cadets will be the hosts and the Naval Museum and the USS Hornet will have a booth on the field so that folks can meet some of our veterans.
The kickoff for the Concours is a cocktail party on Saturday evening from 6-8:30 p.m. at Bldg. 43 Winery on Alameda Point. There will be hors d'oeuvres, wine, music from the Silicon Three Jazz Trio, along with amazing views of San Francisco. A few of the cars that will be in the Concours will also be on display that evening.
Tickets to the Alameda Point Concours d'Elegance, which starts at 9 a.m., can be purchased in advance at www.alamedapointconcours.com for $20 or $25 at the show. Patron's Pavilion tickets, which include the champagne continental breakfast and buffet lunch with wine and beer, are $95. The deadline for entering automobiles for judging has passed. However, you can still enter for display as a Concours Club Field Entry for $50, which includes admission for two.
Local charities that will benefit from the show are the Alameda Boys and Girls Club, the Don Grant Alameda Youth Track Club, the Naval Sea Cadets from the USS Hornet and the Friends of the Port.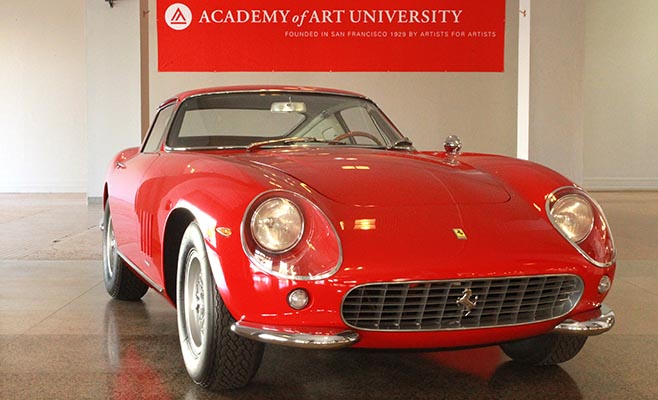 Photo courtesy of Academy of Art SF

Clockwise from top left: The record-breaking X1 concept from Wrightspeed. Based on a modified Ariel Atom, the X1 hits 0-60 MPH in 2.9 seconds; John Carey's award-winning 1929 Rolls-Royce Shooting Break; a 1964 Amphicar amphibious vehicle; and a 1963 Corvette Grand Sport #003 from Larry Bowman's private collection that won several SCCA races. All four vehicles will be on display at the Alameda Point Concours d' Elegance on June 12.