Bay Crossings is excited to announce a new column beginning with the January issue that will provide ferry riders a way to get answers to their questions about the commuter ferries that operate in the Bay Area.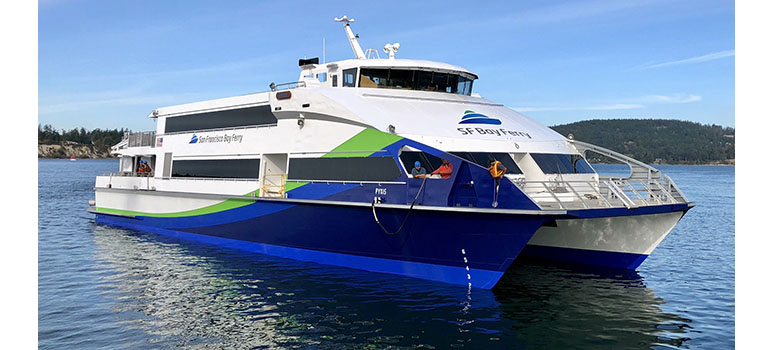 The new 445-passenger Pyxis will begin service on San Francisco Bay Ferry's Vallejo route in early 2019. It is the first high-speed jet propulsion boat added to the WETA fleet since 2004. Photo by Marty Robbins
BY JOEL WILLIAMS
Published: December, 2018
Ferry Q&A Column Debuts in 2019
Bay Crossings is excited to announce a new column beginning with the January issue that will provide ferry riders a way to get answers to their questions about the commuter ferries that operate in the Bay Area. We will work directly with the public information officers of both Golden Gate Ferry (servicing Larkspur, Sausalito and Tiburon) and the Water Emergency Transportation Authority (WETA) (which oversees the San Francisco Bay Ferry that services Oakland/Alameda, Vallejo, Harbor Bay and South San Francisco) to make sure that your questions are fully addressed. Feel free to submit your questions to us now at info@baycrossings.com.
Richmond Ferry Service Begins in January
San Francisco Bay Ferry will launch its Richmond service on January 10. There will be six round trips each weekday, with the first ferry leaving Richmond at 6:10 a.m. and the last boat leaving San Francisco at 6:50 p.m. The trip is an estimated 35 minutes, with adult one-way Clipper fare set at $6.75. The cash fare for adults is $9, with youth, senior and disabled fares (cash or Clipper) set at $4.50. Bike lockers and free parking will be available at the terminal.
WETA is hosting a launch event at the Craneway Pavilion at 1:30 p.m. on January 10 to celebrate the opening of the Richmond Ferry Terminal and start of service. More information is available at sanfranciscobayferry.com/richmond.
Late Night Bus to Vallejo
Take the San Francisco Bay Ferry into the City and don't worry about missing the last boat! The new Soltrans Route 82 now provides service each weekday at 10:30 p.m. between the Ferry Building and Vallejo Transit Center. Now people who take the ferry into the City but miss the last boat or want to have a late dinner/event have a way to get back to Vallejo.
New Mobile Ticket Option
WETA recently unveiled its mobile ticketing solution with partner Hopthru, giving passengers a simple method to purchase San Francisco Bay Ferry tickets and board using their phones.
Passengers can use the Hopthru app to purchase tickets for any of San Francisco Bay Ferry's four regular routes right from their Apple or Android devices. This provides a third way for passengers to purchase tickets, in addition to obtaining paper tickets and using a Clipper card.
Passengers can download the Hopthru app in their device's app store or can receive a download link by texting "hopthru" to 43506. After signing up, they are prompted to select their transit agency, rider type and ticket type, then complete their purchase. Once a rider is ready to show their proof of ticket, they can activate their pass and then present it to the deckhand. Purchased passes can be activated at any time with or without internet connection, enabling riders to travel without having to worry about keeping a cell signal.
"We are excited to offer this technology to our passengers," said WETA Executive Director Nina Rannells. "Hopthru will improve the time it takes to board, decrease WETA's operating costs and reduce waste from paper tickets."
WETA Awards $13 Million Contract for New High-Speed Ferry
The WETA Board of Directors recently awarded a $13 million contract to Mavrik Marine to build another new high-speed ferry to enhance the San Francisco Bay Ferry service. The vessel, expected to be in service by 2020, will be the eighth added to WETA's fleet since 2017. Three new 400-passenger ferries have entered San Francisco Bay Ferry service since April 2017, with one more on track for early 2019. The contract awarded calls for a new 300-passenger, high-speed ferry. This vessel will be used to aid WETA's efforts to expand San Francisco Bay Ferry service to new terminals and to support existing and enhanced service on existing routes. The ferry, which will also have capacity for at least 35 bicycles, will be a versatile addition to the fleet as service expands to the City of Richmond in January 2019 as well the Mission Bay neighborhood of San Francisco and Seaplane Lagoon in Alameda within a few years.
WETA to Add New Vessel to Vallejo Route
A new ferry will be joining the San Francisco Bay Ferry Vallejo route in early 2019. The 445-passenger Pyxis is the first of three new vessels that are scheduled to provide extended service primarily to Vallejo in the coming years. Pyxis will have two sister ships, Vela and Lyra. Vela is expected later in 2019 and Lyra is expected in early 2020. Pyxis is also the first jet boat added to the WETA fleet since 2004 (others, like the Hydrus class, have been prop). It will be the highest capacity vessel in the fleet when it enters service.
Ferry Accident in S.F.
At approximately 2:30 p.m. on Friday, November 23, the M.S. San Francisco collided with an outer berth and then the dock at the San Francisco Ferry Building. The vessel was carrying 53 passengers at the time of the collision. Two passengers reported minor injuries. The full extent of the damage to the vessel and dock is still being determined.
At press time, the cause of the accident was unknown with an investigation underway in coordination with the U.S. Coast Guard. Per agency protocol, the vessel captain and crew underwent drug and alcohol testing in addition to a full debriefing. The investigation will also include analysis of data pulled from the vessel's onboard control systems.
"We are taking this incident very seriously," said Priya Clemens, spokesperson for the Golden Gate Bridge, Highway and Transportation District. "We're glad no one was seriously injured, but this type of incident on our ferry service is highly unusual. We are investigating the cause of the accident closely."