MV Carina, the fourth and final of WETA's Hydrus class ferries, arrived in the Bay Area on January 27.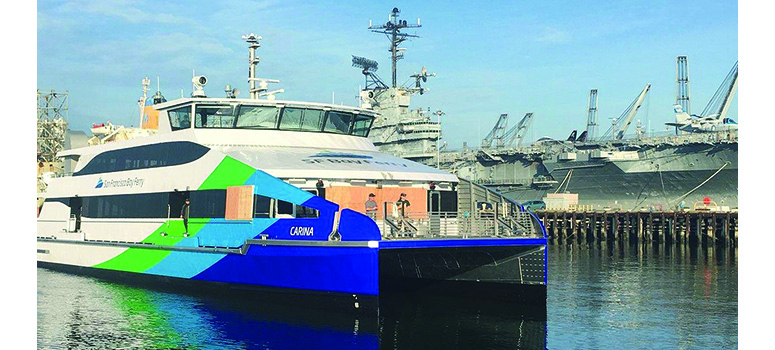 The new MV Carina arrived in the Bay Area recently and is expected to begin service on the Alameda/Oakland route soon.
Published: February, 2019
MV Carina, the fourth and final of WETA's Hydrus class ferries, arrived in the Bay Area on January 27. Built in Seattle by Vigor and designed by Incat Crowther, Carina is a 400-passenger, 27-knot ferry that will primarily handle runs between Alameda, Oakland and San Francisco. Carina joins sister ferries Hydrus, Argo and Cetus in the fleet and should enter service by the end of February.
The 445-passenger Pyxis, the first of three new high-speed vessels designed primarily for the Vallejo route, is in the process of completing the final phases of sea trials in Anacortes, Washington. Both vessels will need to undergo further tests and inspections in Bay Area waters before entering service on San Francisco Bay Ferry routes.
New South SF to Harbor Bay Route
In response to growing demand for service from South San Francisco to the East Bay from people on the peninsula who work in Harbor Bay Business Park, San Francisco Bay Ferry is running a pilot program that will feature a single morning commute from South San Francisco's Oyster Point terminal leaving at 8:30 a.m. and arriving at Alameda's Harbor Bay terminal at 9 a.m. There will be one return trip in the evening at 6:30 p.m. arriving in South San Francisco at 7 p.m. This new route eliminates a current deadhead run where a ferry returns to port empty and also enables San Francisco Bay Ferry to add an additional Harbor Bay to San Francisco run in the mornings at 9 a.m.
Electrical Issues Sideline MV Mare Island
WETA's MV Mare Island was out of service for a little over a week due to an electrical issue discovered on January 16. Due to vessel limitations, bus service replaced one major morning run from Vallejo to San Francisco and two afternoon runs from San Francisco to Vallejo for a week. Mare Island was repaired and re-entered service the afternoon of January 25.